Happy Birthday to meeeee!! Today is my 23rd birthday! Ahh that sounds so old. To me, when you are 22 years old you are a young adult, but at 23 you become and adult. ADULT. Bleh I'm not ready to grow up, pay rent, bills, or wear plain colored nail polish!
But one thing that is unique about my birthday is that it is on the second Day of the Dead, or Dia de los Muertos. I explained in a
previous post
about what the Day of the Dead is and why I love it. But basically, it is a Mexican holiday on November 1st and 2nd in which people go to the graves of loved ones that have passed, and decorate them and party to celebrate their lives, instead of being sad and mourning them. I really love the meaning of that, as well as all the bright colored skulls!
Since I am obsessed whit this day (plus having such a cool holiday on your birthday is awesome!) I bought
OPI's So So Skullicious
set as soon as a saw it! I already swatched at reviewd the polished, but I now it was time to use them in a manicure: a Day of the Dead Birthday manicure!
I was really racking my brain to decide how I wanted to incorporate the polishes and the water decals. Then I saw
this mani by Nail Polish Wars
and I found my inspiration!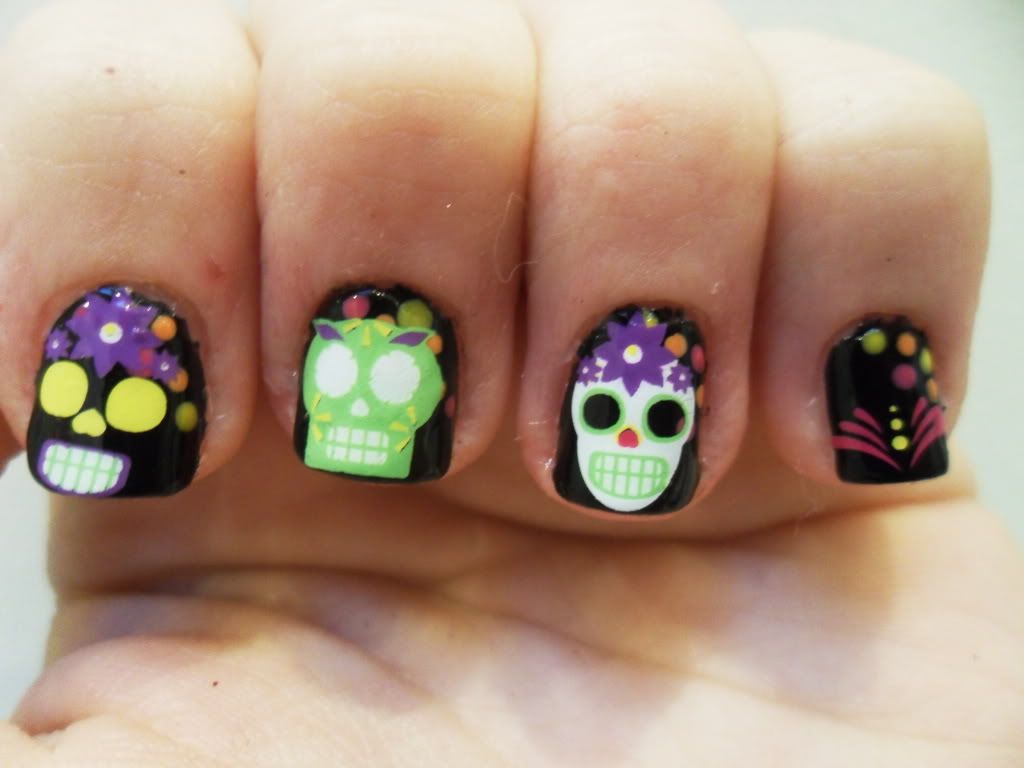 I started with the black with multi-colored dots by the top of my nail, and then I added the water decals that came with the set. Unfortunately, my nails were too short so the decals JUST fit, covering most of the dots. Other then that, I thought the decals looked really awesome! It was my first time using water decals on my nails, and it was pretty easy! I only had one problem with one sliding off. But I found it and it went right back on no problem. I didn't use all of them, so I am excited to use these again. I just wish they were a tad smaller (or that my little nails would grow!).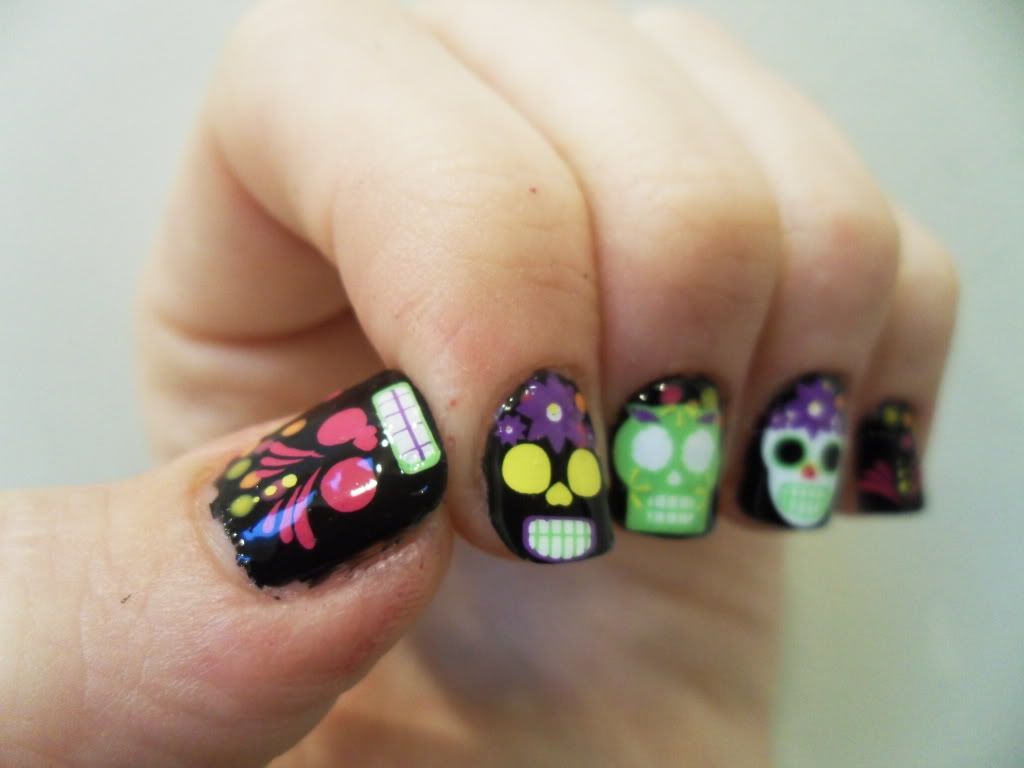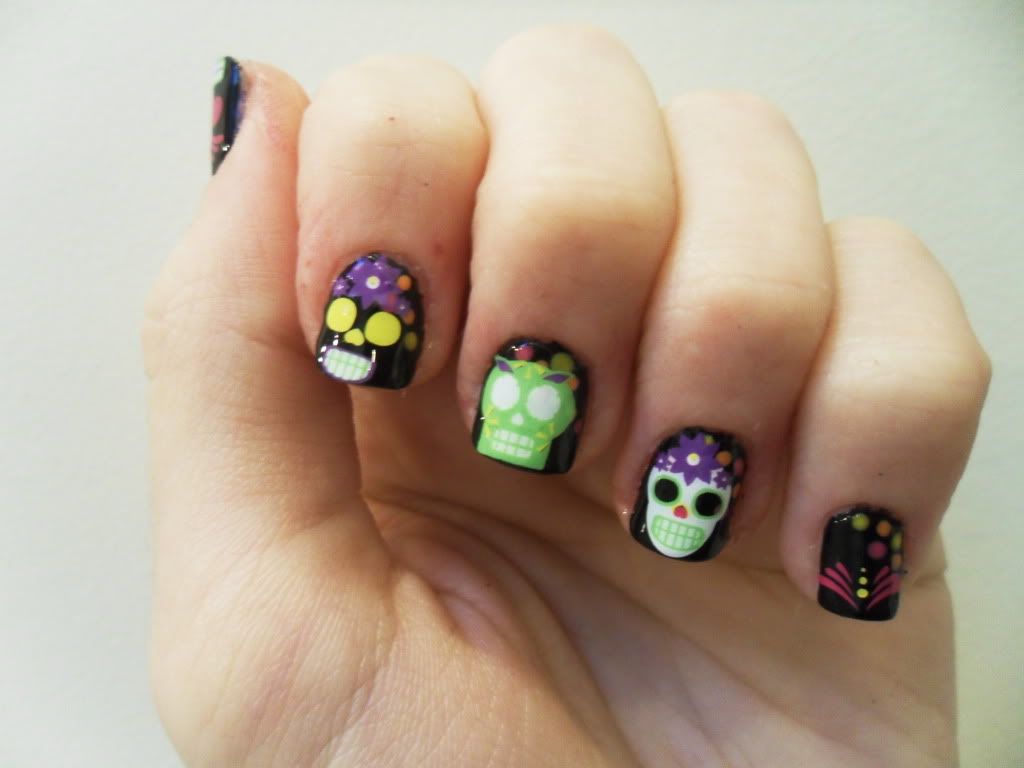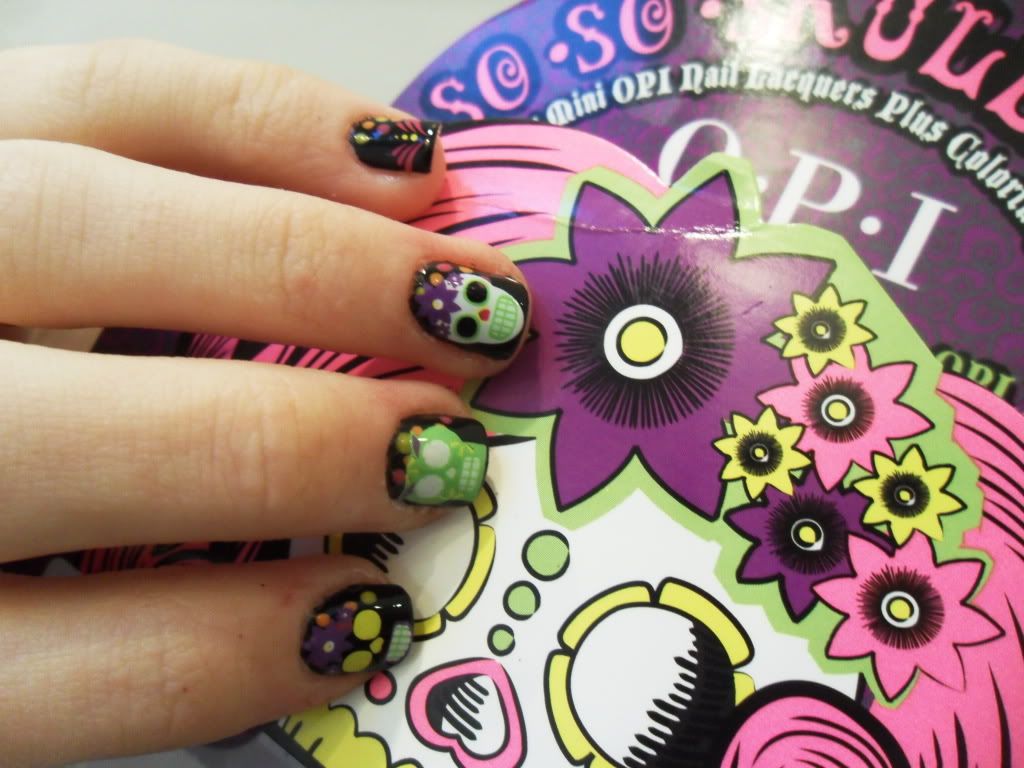 Here's what I used:
OPI Mourning Glory
OPI Hi, Pumpkin!
OPI Candlelight
OPI A-Rose From Death
So So Skullicious Nail Decals
Over all I was totally obsessed with this! Perfect birthday manicure for me! Have you used the So So Skullicious set? What do you think of water deals? What do you think of my birthday/Day of the Dead mani?
Claws up!