Hello everyone, are you ready for this very special blog post??
DRUM ROLLLLLL....
Today I my very first blogaversary! Wow, I can't believe its been a whole year already! Thinking about my life one year ago when I was writing my very first blog post makes me realize how many things have changed already. One year ago I was still volunteering at the Bronx Zoo, and I just started my dog and cat behavior class. I didn't even start working at Best Friends yet, and of course, I was writing a post to zero followers.
I can't believe how far my blogging has come. Looking back on my posts and photos from a year ago makes me cringe, and so does thinking about how my blog used to look (yellow and black!). I wanted to thank the followers I had since the beginning for sticking around while I worked out the kinks and figured out this blogging thing. I want to thank all the followers I have gained since then too, you have all been so amazingly supportive, and you really make it worth while :)
So for this special post, I wanted to re-do my very first nail post that went up a whole year ago. It was actually really laughably embarrassing, so I wont post a photo, but if you want you can
check it out
. For my first post, I decided to try out galaxy nails for the very first time. I was not well equipped at all. Since this time last year, my polish collection has doubled, and I have acquired more nail art tools, and learned more techniques. I have never tried galaxy nails since then, so here is my second try!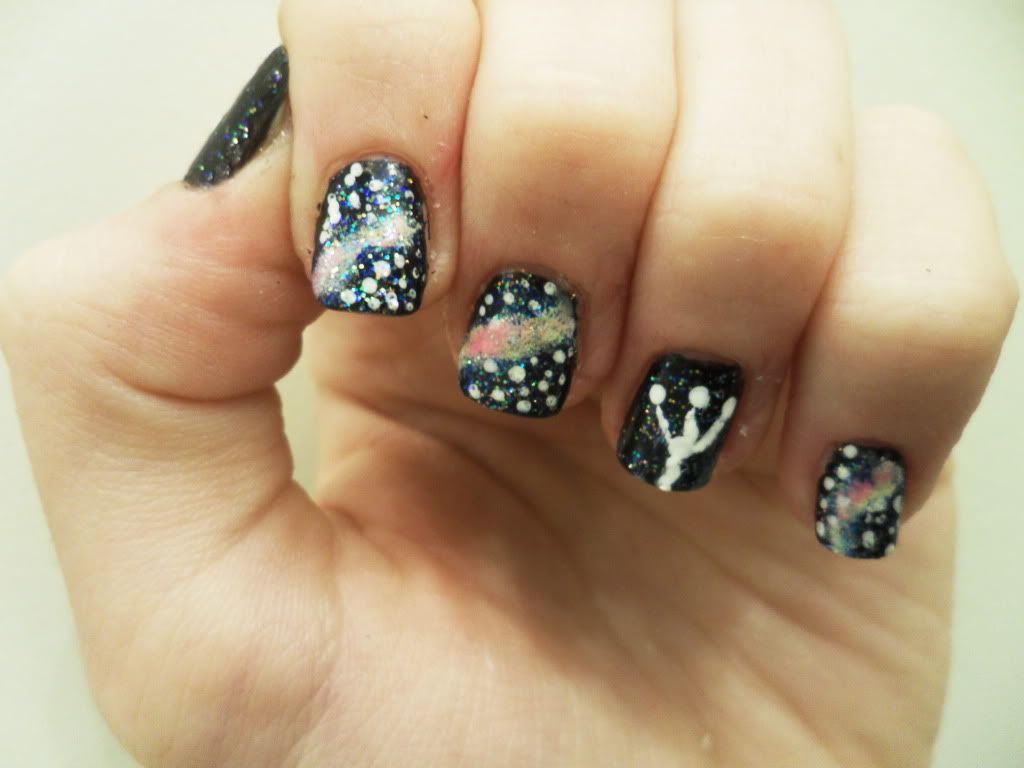 While making my galaxies, I was thinking about the
guest post
my very best friend,
Sara
had on my blog a while back. I love space and stars and astrology so naturally I loved her idea to create constellation nails! I always knew I was going to try them some time. But then I was talking to Sara about them and she told me she wanted to add the Scorpio (MY SIGN!!) constellation to her nails, but they were too small to fit the large constellation. That's when I came up with the idea to create the Scorpio constellation using two nails, so I could fit it all on my small nails!
I thought constellation nails would go great with some galaxy nails.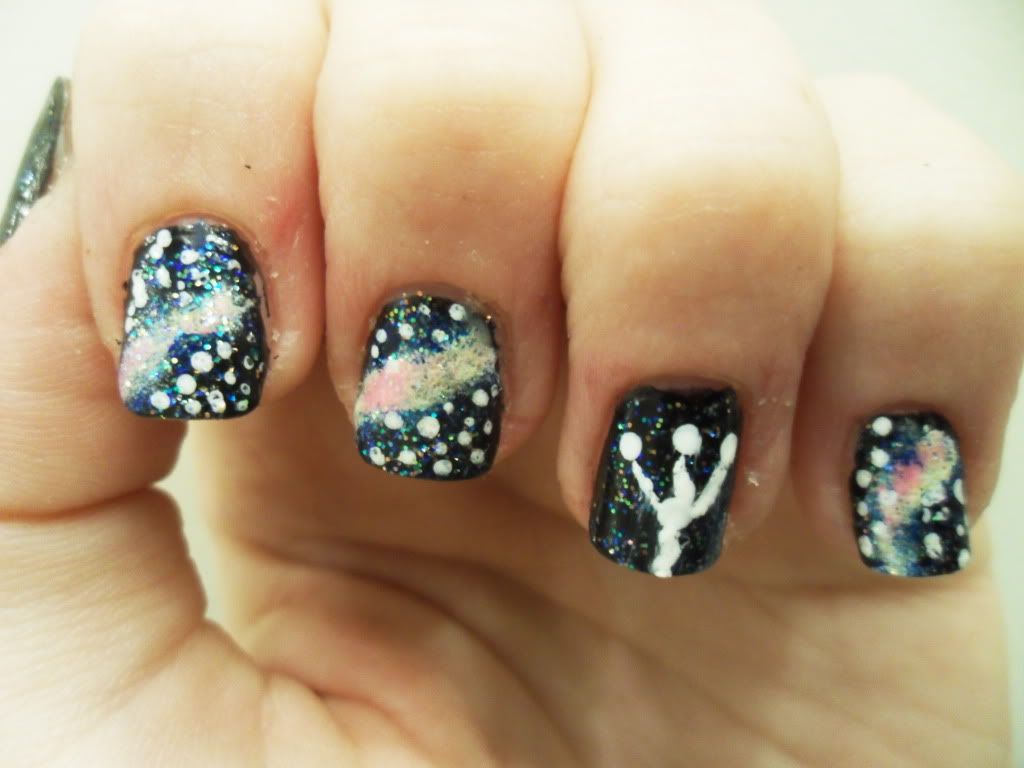 Here's what I used: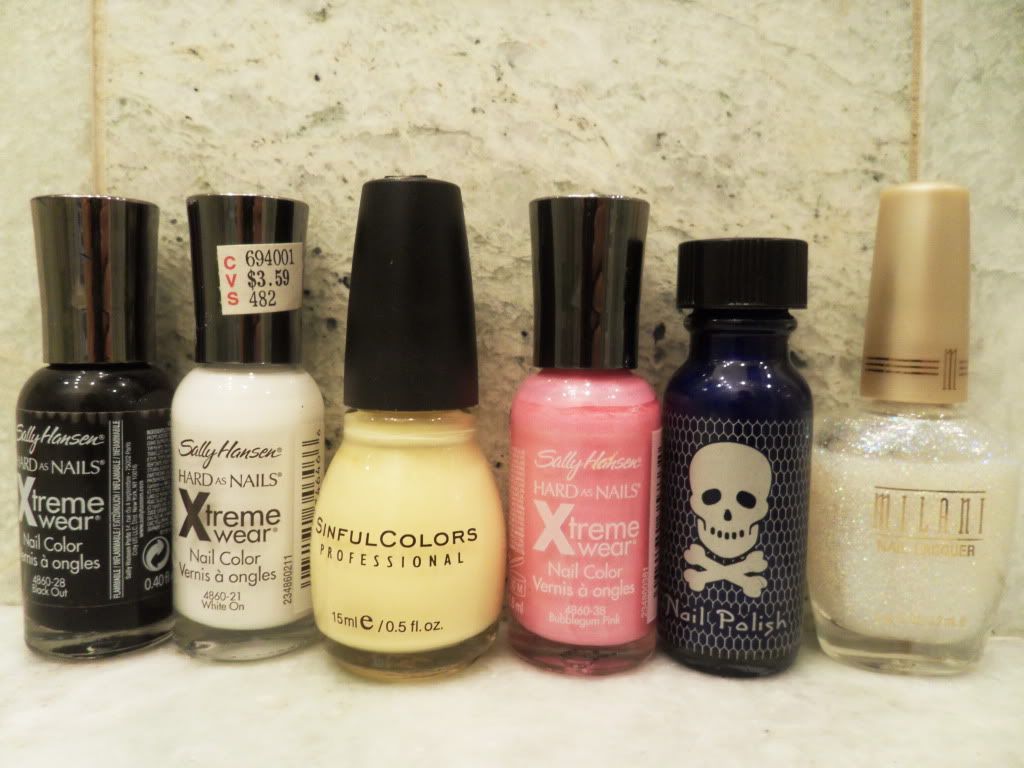 Sally Hansen Xtreme Wear in Black Out
Sally Hansen Xtreme Wear in White On
Sinful Colors in Unicorn
Sally Hansen Xtreme Wear in Bubblegum Pink
Hot Topic Nail Polish in an unnamed dark blue
Milani in Diamond Dazzle
The only polishes that are the same from last time are Black Out (same color but a new bottle) and Diamond Dazzle. I built up a polish collection with more variety and better polishes since I started blogging. I was warned blogging would be hard on the pocketbook!
So it has be one fun and enjoyable year, and I can't wait to see what another year of blogging brings!
Also I wanted to let everyone know that I will be in Florida for the next three days visiting family and going to Disney. I will see all you guys in three days!
What do you think of this galaxy mani compared to my original?
One year of CLAWS UP!