Hello everyone! I hope you all had a great weekend. Today I am heading back to NY to finally get my kitty and my nail polish!!! But for today's post I wanted to tell you about my 4th of July, and show you the make up look I rocked all the way to the capitol.
As I mentioned, since this was Ben and my first July 4th in the DC area, we thought it was only appropriate to celebrate the best way possible, on the lawn of the Capitol. As far as clothes and nail go, I was ill equipped to go all out like the locals do, but I new I needed to wearing something fun, so make up it was!
We didn't know what we wanted to do once we got to DC, so we started by checking out the White House and the Washington Monument. As we were strolling along in the heat, I got a text from my college roommate that now lives in DC. She told us that her and her fiance were hanging out on the Capitol Hill lawn waiting for the concert and fireworks, so Ben and I decided to meet up with them. It was no nice seeing Noelle again, since I haven't seen her since we graduated 2 years ago.
Ben and I didn't know what the concert was, but we knew for a good spot at what would probably be the most amazing fireworks in America, we would have to wait a while. Noelle and her fiance had gotten there really early so we were lucky enough to find them and share their awesome spot on the lawn. Then we waited for about 5 hours.
Apparently that concert was A Capitol 4th, a 4th of July tradition on the lawn of the Capitol. Performers included Barry Manilow, Neil Diamond, and Darren Criss from Glee! Also, the concert is nationally televised, and since we were right up in front, we ended up being on TV!! As the concert was coming to a close, the fireworks started above the Washington Monument...too bad we couldn't see them because we were right behind a big tree! Oh well, we still had a lot of fun, and I'm happy to say that I got to spend 4th of July at our nation's capitol.
Here's the look I wore:


I started with a layer of the Urban Decay Primer Potion, then applied the white from the Milani 01 Paint Eyeshadow Palette all over my eyelids.
I then applied a red Manic Panic Powder Blush to the middle of my eyelids. I actually bought this red blush/eyeshadow almost 10 years ago! I think its called Rockly Red, but the label is so worn its hard to tell. You can get a similar one
here
.
The last shadow I used was the blue from the Milani 01 Paint Eyeshadow Palette, and I applied that to the outer corner of my eyes.
I lined my upper lash line with Loreal Telescopic liquid eyeliner in black, and the bottom with Korres Eyeliner Pencil in Sky Blue.
To finish off my eyes, I used the Urban Decay Big Fatty Mascara.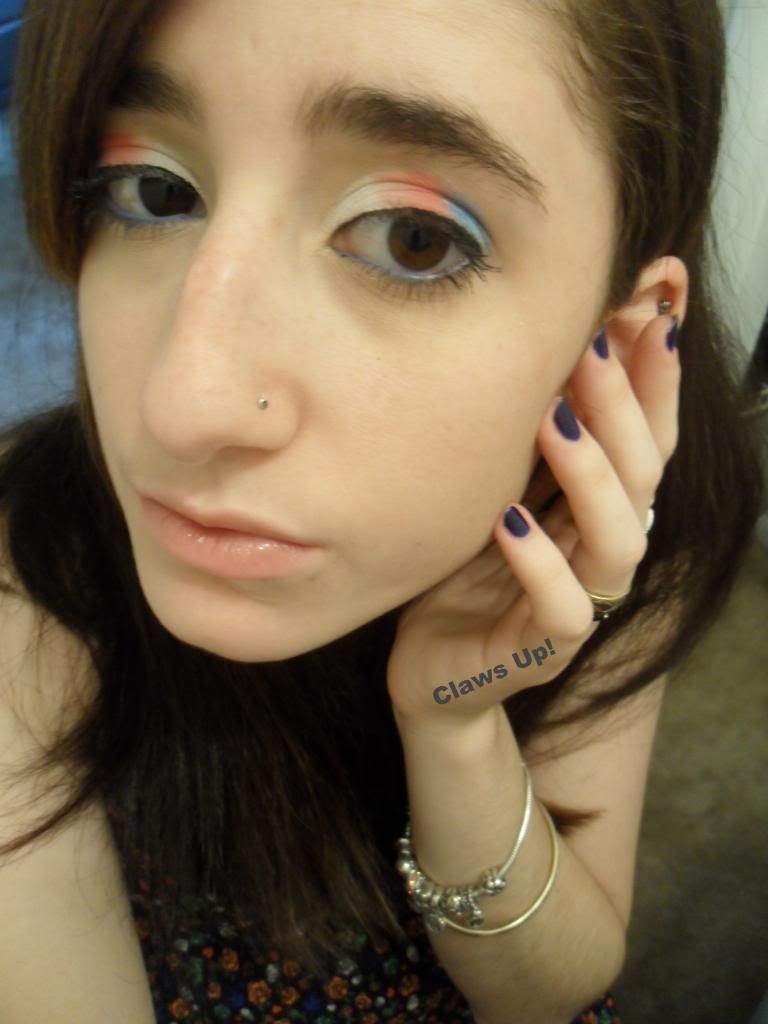 I paired this look with a nude lip using Mally lip gloss in Mally's Look.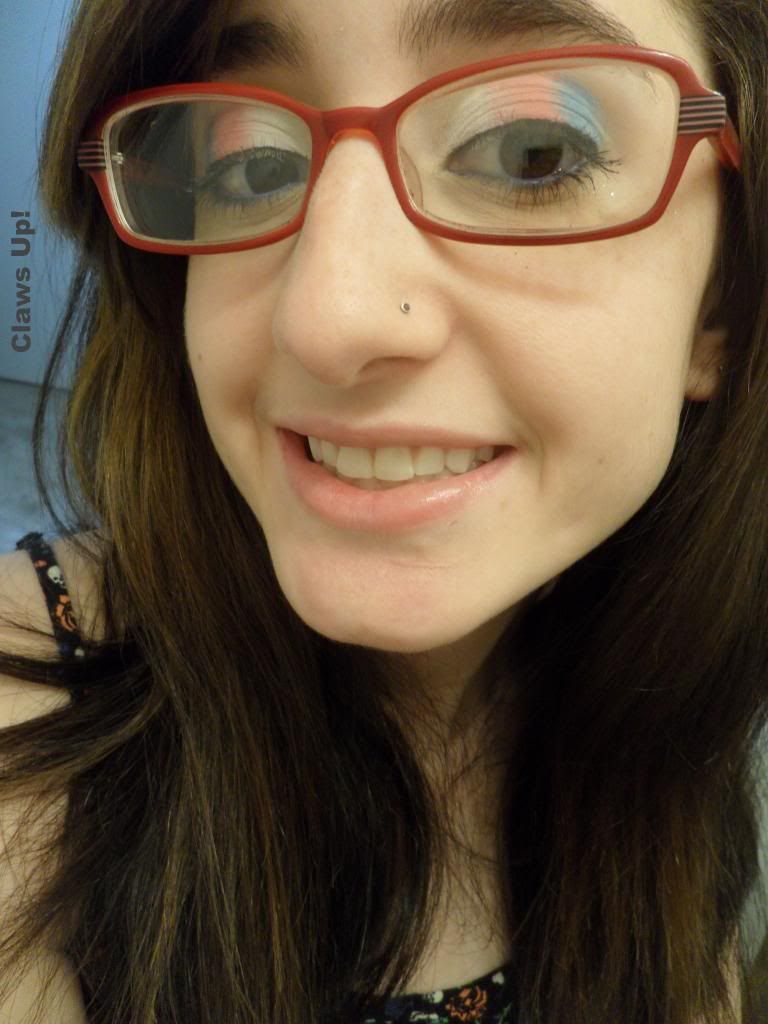 I loved how my glasses matched!
Overall I thought this was a fun look to go all out and celebrate the 4th of July. Surprisingly after 12 hours out in the heat, my makeup never smeared or ran!
I had such a great time in Washington DC seeing my friends and having fun for the 4th.
What do you think of my patriotic make up look? What did you guys do for the 4th?
Claws Up!